Margarey Nash: An eye-opening friendship with a PNG mum-to-be
Like many others who have spent time in Papua New Guinea (PNG), Margery Nash started supporting Burnet's Healthy Mothers, Healthy Babies (HMHB) Program after seeing with her own eyes the sort of hardship endured by expecting mothers in that country.
Soon after her retirement from a senior position as a librarian, Margery signed up with Australian Business Volunteers, which matches people with volunteer opportunities in the Asia Pacific region.
"They needed someone with library and training experience, which I had, so off we went to the Eastern Highlands of PNG. Friends and family thought we were mad to go to PNG. We went anyway," Margery said.
Margery volunteered at an international school in Goroka. She worked as the school librarian, setting up systems, teaching students, and training local staff members.
"A young woman worked with me in the library as an assistant. Her name was Liven. She was very intelligent and easy to train, and she was also pregnant."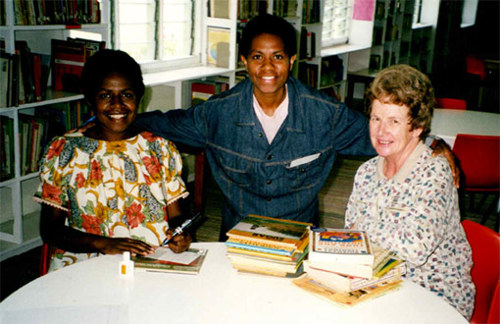 Working together, Margery and Liven became friends, and Margery was shocked the more she learned about Liven's life as an expectant mother.
"In the morning, she would go to the river for water, pick vegetables, make breakfast, and then get on a bus and travel an hour to work. All while heavily pregnant."
"I asked her one day if she had been having regular checkups, and found that she hadn't. She said she was afraid of asking for time off. She thought she would lose her job. Plus, it was a public hospital – she could be made to wait all day. So I stood in for her for the day and the school driver took her to the hospital.
"She had malaria when she was a child. I asked her one day if she was tired because of her pregnancy. She said no, she was tired because she was having a bout of malaria.
"How humble it all made me feel. You almost feel ashamed of everything you take for granted. So much that we take for granted they don't have.
"When I found out about the Healthy Mothers, Healthy Babies program being run in PNG by Burnet, it spoke to me. I thought of Liven, and of all the other young women like her, expecting babies, wanting just what young mothers here want – a healthy baby. I've been supporting it ever since."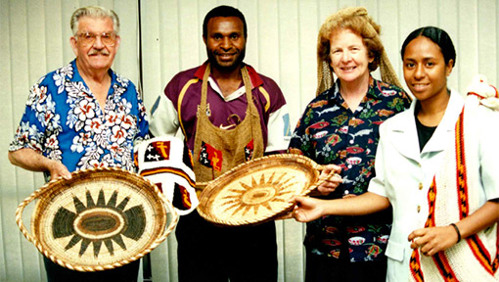 Margery left PNG before Liven had her baby, but they kept in touch.
"Liven had a baby boy and he was born healthy. The baby, well, he's a young man now – would be turning 21 this year. I remember she used to have plain crackers for lunch. So I would share my lunch with her. She said to me, 'When my baby is older, I'm going to tell him he was born healthy because you shared your lunch.'
"Speaking with Burnet about my experiences in Papua New Guinea revives such good memories for me. So many good memories…"
Find out how to become a Research Action Partner like Margery.
Margery's story is featured in the AUTUMN 2021 edition of our Thanks to You newsletter. Click here to read it.