UK Secretary of State visits PNG's Fleming Fund antimicrobial resistance data surveillance project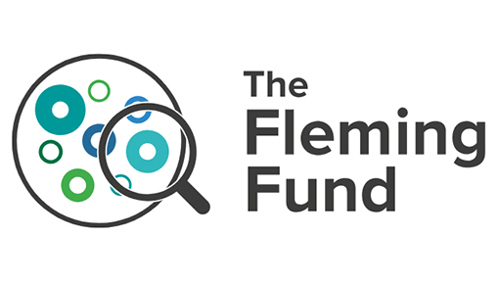 The Fleming Fund Country Grant in Papua New Guinea (PNG), led by Burnet Institute was the focus of a recent visit to Port Moresby by the UK Foreign Secretary, Rt. Hon. James Cleverly.
Cleverly's visit was the first by a sitting UK Cabinet Minister to PNG. This included an inspection of specialised equipment in the Pathology Microbiology unit at the Port Moresby General Hospital (PMGH) – procured to develop and enhance the unit through the Fleming Fund – a £265 million UK Aid programme helping to tackle antimicrobial resistance (AMR) in Africa and Asia.
The Fleming Fund Country Grant in Papua New Guinea, run by Burnet Institute and managed by Mott MacDonald, works in collaboration with partners from Australia and in-country to renovate national laboratories and strengthen the antimicrobial resistance (AMR) data surveillance system. This helps us to better understand how AMR is spreading, and where it poses the greatest risk to inform effective policymaking.
Our key collaborators in PNG include the National Department of Health (NDOH), the Department of Agriculture and Livestock (DAL), the National Agriculture and Quarantine Inspection Authority (NAQIA), and the Conservation and Environment Protection Authority (CEPA).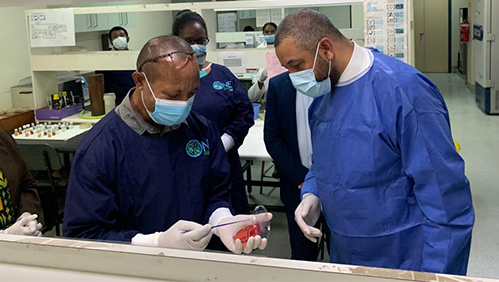 AMR has been declared as a top ten global public health threat by the World Health Organization, responsible for the deaths of 1.27 million people globally. Untreatable infections caused by AMR are rising every day and may reach a point where antimicrobials no longer work.
The Foreign Secretary was accompanied by the British High Commissioner His Excellency Mr. Keith Scott to tour the PMGH Microbiology Unit and the Central Public Health Laboratory (CPHL) facility. The tour was led by Fleming Fund PNG human health fellows Dr Gabriella Ak, Ms Temas Ikanofi and Ms May Varasmaite-Keket, hosted by the Doherty Institute in Australia.
Clinical Microbiology fellow Dr Ak highlighted the hospital's AMR data surveillance platforms used to significantly reduce the turnaround time for Antimicrobial Susceptibility Testing (AST), improving patient care and clinical antibiotic misuse. The Foreign Secretary had the opportunity to perform the AMR 'streaking' process, testing urine specimens for AST by cultivating bacteria to inspect the isolated pathogen.
Cleverly said the equipment procured for the Microbiology Unit of PMGH's Pathology Department would support PNG "in the here and now, and into the future".
"The ability to analyse microorganisms effectively and quickly is incredibly important … and I'm very pleased that it's being facilitated with the help of the Fleming Fund, funded by the British people to support our friends here in Papua New Guinea," Cleverly said.
PMGH Director of Medical Services, Dr Kone Sobi said Fleming Fund support for the training of staff at the Microbiology Unit and Central Public Health Laboratory (CPHL) had been invaluable.
"Through the Fleming Fund Country Grant, we are able to improve and enhance the capacity of the Microbiology activity in Port Moresby General Hospital, and this goes a long way to serve and improve clinical practice in the country," Dr Sobi said.
Dr Chani, Burnet Country Director in PNG, highlighted that the FFCG is helping the laboratories to detect resistant microbes early and produce quality surveillance data to inform the AMR response in PNG.
A key focus of the Fleming Fund Country Grant is to establish the CPHL – which is currently undergoing renovations – as PNG's national reference laboratory for AMR. This will help to coordinate the country's AMR data surveillance system, acting as a central focal point.
The fellowship training to develop research and microbiology skills and enhance AMR data surveillance through the One Health concept, was also highlighted to the Minister. This aligns with the Fleming Fund's plans to explore AMR in regional, animal health in its second phase and its connection to human health and our shared environment.
Achievements of the project include:
Creating a brand-new laboratory at Mount Hagen General Hospital for growth and detection of pathogens for AST, and new storage units of AMR surveillance consumables.
Strengthening the national governance structure to ensure coordination of AMR activity. This includes monthly technical working groups and an annual PNG AMR symposium.
Development of the revised National Action Plan covering the One Health components, including an AMR surveillance plan in poultry.
Supporting the effective running of laboratories through the development of Standard Operating Procedures (SOPs) and reporting templates for AMR data surveillance.
Providing training on data management, analysis, and interpretation, and learning sources to upskill healthcare staff.
Programme Director, Professor Robert Power AM, added: "The Fleming Fund is providing much needed funding and support to address this critical public health problem, one that is global in its proportion and reach.
"The fact that a prominent member of the British cabinet has shown such keen interest in our work and progress emphasises the seriousness of this issue as well as the ongoing commitment to sustaining this international collaboration and multi-sectoral endeavour."
The Department of Health and Social Care (DHSC)'s Fleming Fund is a UK aid programme supporting up to 25 countries across Africa and Asia to tackle antimicrobial resistance (AMR), a leading contributor to deaths from infectious diseases worldwide. 
The Fleming Fund invests in strengthening AMR surveillance systems through a portfolio of country grants, regional grants and fellowships managed by Mott MacDonald, and global projects managed by DHSC.