On the road to 2030: breaking down the entrenched barrier to hepatitis C elimination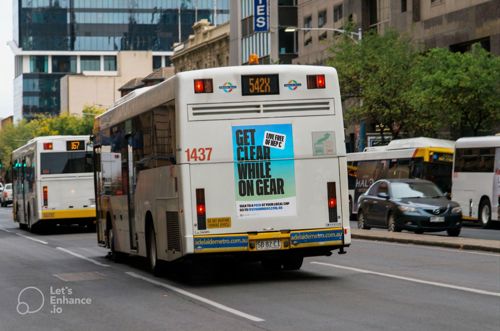 Australia can eliminate hepatitis C as a public health threat by 2030 but needs more than just the availability of direct-acting antivirals (DAA) to reach more than 100,000 Australians still needing to go on hepatitis C care.
The availability of curative DAAs is putting the 2030 elimination target within reach, according to Dr Alisa Pedrana, EC Australia Coordinator and Burnet Deputy Discipline Head, Public Health. This is not only because of the success stories of those who have been treated and cured, but because of the promising results in terms of reduced infection rates. 
For many people with hepatitis C today, the barriers are more complex and often include the healthcare system itself. 
"While we've done a great job to date, our job is getting harder as the people who have not yet engaged in hepatitis C testing and treatment have more complex needs or may be avoiding accessing health services for fear of being treated badly by healthcare staff," says Dr Pedrana. 
"People's previous experiences with stigma and discrimination, particularly in healthcare settings can have lasting negative impacts on their relationship with healthcare providers,"
Dr Pedrana continues. 
These include people who inject drugs, and Aboriginal and Torres Strait Islander people, who may experience stigmatisation and discrimination as an Aboriginal and Torres Strait Islander person, and as a person who injects drugs. 
"People's previous experiences with stigma and discrimination, particularly in healthcare settings can have lasting negative impacts on their relationship with healthcare providers."Dr Alisa Pedrana, EC Australia Coordinator and Burnet Institute Deputy Discipline Head of Public Health
So how do we break down these entrenched structural barriers to ensure that care is being provided in a fair, equitable, respectful and non-judgemental way? 
One way, says Dr Pedrana, is for the federal government to fund training programs to help address stigma within the healthcare setting. 
Other solutions lie in implementing innovative high-impact interventions such as peer-led health promotion campaigns, financial incentive programs, and working with prison services to deliver testing and treatment to inmates. 


Hepatits C in Australia
More than 95,000 people have received direct-acting antiviral (DAA) treatments to date. DAAs are easy to use, available at low cost through the Pharmaceutical Benefits Scheme, and cure most people's infections in less than three months. 
Medicare data shows a decline in testing since 2016. The number of people treated each year also continues to decline. An estimated 117,800 people still live with hepatitis C. 
Interventions to reduce stigma experienced by people living with hepatitis C and people who inject drugs are needed to increase engagement with hepatitis C testing and treatment services.
Explore Australia's progress towards hepatitis C elimination

Peer-led health promotion campaign
The It's Your Right campaign is the first peer-led health promotion campaign developed by EC Australia together with partners. Co-designed by a national reference group that included peer and drug user organisations, it supports those organisations in every state and territory to reach and engage with their own communities, and help people overcome their hesitation about hepatitis C testing and treatment.
"When we say peer-led, we're referring to people with a lived experience of injecting drug use and hepatitis C," says Dr Pedrana.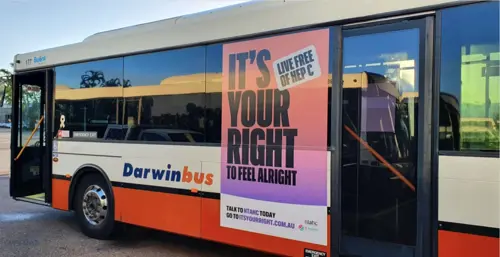 The initiative includes street advertising, local posters, and merchandise, to peer activities and incentives - anything that can promote the campaign messages to access testing and treatment, and facilitate peer-led conversations. 
"We see the peer organisation as providing a bridge between the community and trusted health services." Dr Alisa Pedrana
The campaign is now being expanded to focus on engaging Aboriginal and Torres Strait Islander communities.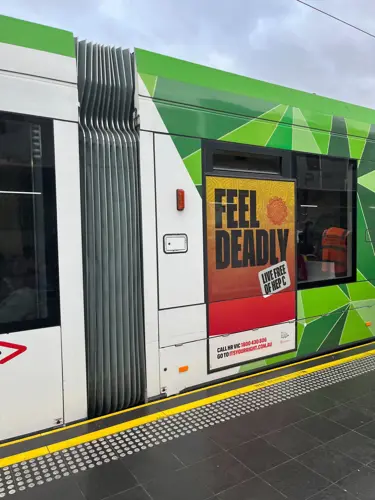 Testing incentive program
People living with hepatitis C who inject drugs often face a number of other practical challenges that prevent them from seeking the help they need. One area being explored by EC Australia is the idea of providing financial incentives that support and motivate those individuals to get tested and treated.
See also: Could a 'test often, treat early' approach help eliminate hepatitis C among people with HIV?
"These challenges may include other health issues, housing issues, and they may be managing issues with the justice system, so providing support like financial incentives can help people pay for public transport to attend a health appointment or help them prioritise accessing hepatitis C care," says Dr Pedrana.
"Health services and governments are often reluctant to provide incentives, as it can be difficult to justify in a budget. However, we have used modelling to demonstrate the economic benefit of providing people with incentives to complete hepatitis C testing and/or treatment, where they otherwise would have not been linked to treatment. As we cure more people the cost of finding someone with hepatitis C increases, and it becomes more important that people are retained in care once diagnosed." 
"Theoretically, there is a point at which it is more cost‑efficient to provide financial incentives to retain someone in care, versus having them become lost to follow‑up and having to start again and find someone else with hepatitis C."
Dr Alisa Pedrana
Working with prisons
In 2021, prisons accounted for more than a third (41 per cent) of all hepatitis C treatments in Australia. This highlights the important role the justice sector plays in reaching people at risk of hepatitis C and supporting them to engage in care. The National Prisons Hepatitis Network of which ECA is a partner recently released the National Consensus Statement on the Management of Hepatitis C in Australia's Prisons. 
It outlines best practice in hepatitis C prevention, testing, and treatment in Australian prisons and identifies recommendations and key performance indicators to support a coordinated national approach to eliminate hepatitis C in prisons. 

Continuing the progress towards Hepatitis C elimination
Sustained funding is required to reach Australians who have not been engaged in hepatitis C care. Recent Burnet Institute modelling suggests that it will require an extra investment of $5 million per year to implement and manage these high-impact interventions. 
If the funding can be secured, Dr Pedrana is confident that Australia can remain on track to meet its hepatitis C elimination target by 2030, saving 8,500 lives, averting 15,700 new infections, and delivering $5.7 billion in net economic benefit to the nation.
Australia is famous for being innovative and courageous in its responses to major health threats, including HIV/AIDS which deployed a response founded on fairness and equity for all affected. We are on the path to doing the same with hepatitis C. 
Commenting on the challenges ahead, Professor Margaret Hellard AM, Deputy Director at Burnet Institute, and Head of Hepatitis Services in the Infectious Diseases Unit at The Alfred Hospital said: "With innovative approaches to care, Australia can achieve hepatitis C elimination by 2030. We are aiming for that, we are leading the world on that, and the world is looking at us to do a really good job."
Hear from hepatitis C experts on approaches to disease elimination at a World Hepatitis Day event.