A shared vision for the AIID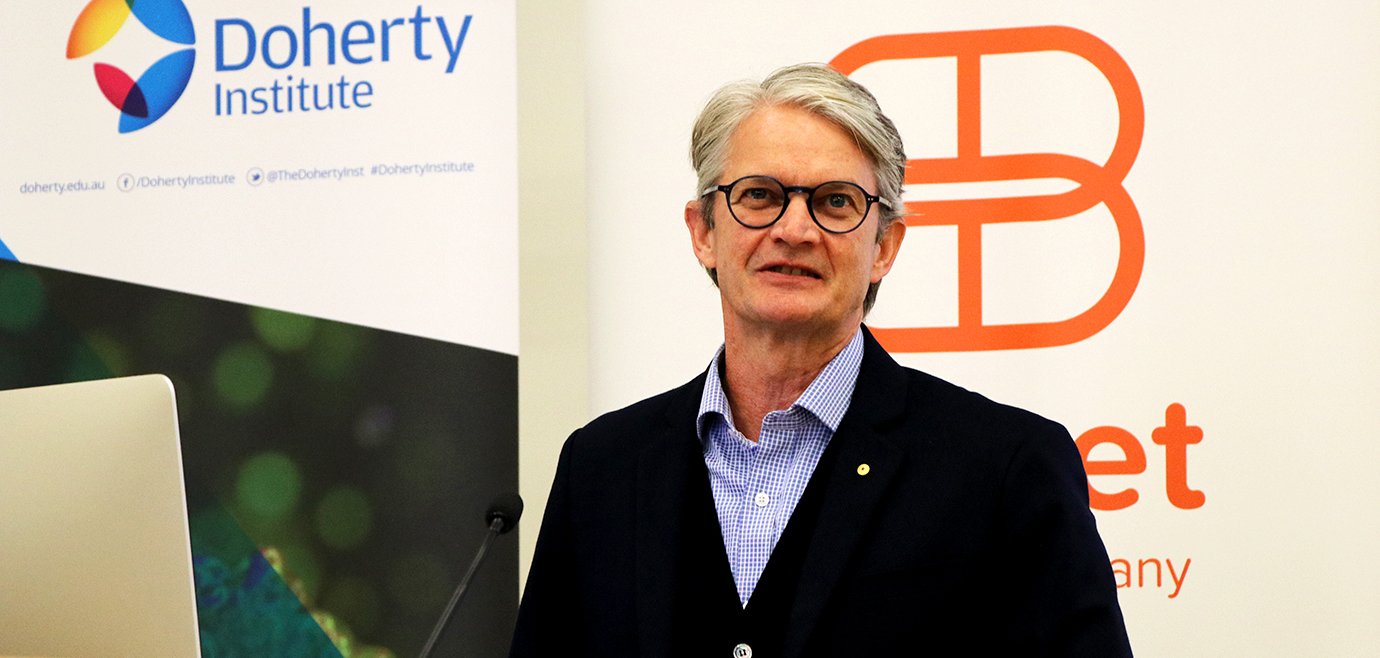 Burnet and Doherty Institute staff and students gained new insights into their shared future in the Australian Institute for Infectious Disease (AIID) at a special Symposium hosted by the Doherty Institute.
The program included overviews of the health strategies of both Institutes and presentations on key projects with a focus on collaboration, commonalities, and complementarities.
Burnet, Doherty and the University of Melbourne are foundation partners of the AIID, which is being supported by the Victorian Government to protect Australia and the region against infectious disease and future pandemics.
It includes the establishment of a Victoria-wide alliance and delivery of a new purpose-built facility in the Melbourne Biomedical Precinct in Parkville, with construction set to begin in 2025.
Burnet Director and CEO Professor Brendan Crabb AC told the audience the Symposium was an opportunity to break down barriers, and "to progress our purpose, much more than we can do on our own".
"We have an obligation to the community to be more than the sum of our parts," Professor Crabb said. "It's not just an opportunity for us, it's an obligation.
"We've got to try to find ways to work together, otherwise, we're not repaying that debt (to the Victorian Government) in the way that we need to."
Professor Crabb reflected on the climate of uncertainty, disruption and discord from the COVID-19 pandemic that prevailed around the time the AIID was announced in late 2020.
"What the people of Victoria and Australia have basically said to us is, we'd really like that not to happen again," he said. 
"We know that we're going to face challenges again, but we'd really like to not face that again, and we're backing you to drive that – that's effectively what this gift is about."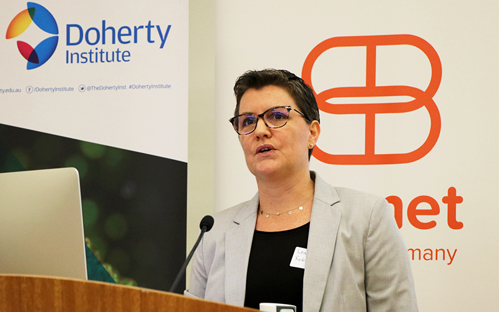 Image: Professor Leanne Robinson presents on Burnet's STRIVE PNG project
Burnet Co-Program Director: Maternal, Child and Adolescent Health, Professor Caroline Homer opened the Symposium with an outline of  Burnet's 2030 Global Health Strategy, followed by an Overview of Doherty's Global Health Programs from Principal Research Fellow, Associate Professor Sarah Dunstan.
A session on regional case studies included presentations on Burnet's STRIVE surveillance project for vector-borne diseases in Papua New Guinea, Doherty's SPARK project for strengthening preparedness in the Asia-Pacific region, and Burnet's approach to community engagement.
The AIID is a visionary initiative bringing together some of the nation's greatest scientific and medical research minds to provide a rapid, coordinated response to current and future pandemics and infectious disease. 
Foundation Partners the University of Melbourne, Burnet Institute and Doherty Institute, supported by the Victorian State Government have together committed $650 million towards building a cutting-edge, high-tech AIID headquarters within the Melbourne Biomedical Precinct.
Click here to find out more.