Lack of quality data an obstacle to reducing stillbirths in the Pacific, UN report reveals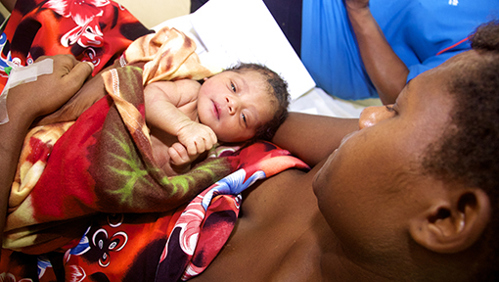 A United Nations (UN) report has revealed 86 per cent of Pacific Island countries and territories have no quality data on stillbirths, complicating efforts to reduce the burden of stillbirth in the region.
Never Forgotten: The situation of stillbirth around the globe, the second report on stillbirth by the United Nations Inter-agency Group for Child Mortality Estimation (UN IGME), was released last week.
While the small island nations in the South Pacific region collectively contribute less than one per cent to the global burden of stillbirth, it's important they don't get forgotten, said Professor Caroline Homer AO, Burnet's Co-Program Director for Maternal, Child and Adolescent Health.
Many of these countries are able to count the number of deaths from stillbirth, Professor Homer said, but there is a lack of further inquiry into why the deaths occurred.
"The inquiry's important because then you can start unravelling, well, why did this baby die? And could this death have been prevented?" she said.
Professor Homer is the senior author on a paper published in 'The Lancet Regional Health – Western Pacific' last month, highlighting some of the issues around the health of mothers and newborns across these countries.
She said another challenge was that the definition of stillbirth varies across the region, which makes comparing rates of stillbirth between different countries difficult even when data are available.
"We're not saying they all have to be defined the same, but we are highlighting that when you measure and record stillbirths, you may not be counting the same thing," Professor Homer said.
"And importantly, you don't then know what interventions need to be put in place to try and reduce stillbirth."
For example, we know that stillbirths that occur earlier in pregnancy are often to do with the health of the mother or the baby and may not be preventable, whereas stillbirths that occur during labour are invariably related to poor care in labour – which we can do something about.
"If you have really high rates of stillbirth actually occurring during labour, you know your quality of care is really problematic," Professor Homer said.
The UN report found in 2021, 53 per cent of stillbirths in the Pacific occurred during labour.
In her recent paper, Professor Homer and colleagues looked at some of the ways different countries in the region are addressing these challenges.
For example, Fiji, Tonga, Samoa, Vanuatu, Solomon Islands and Kiribati are part of a project with Burnet to strengthen their midwifery education through reviewing and updating the curriculums, and working with these countries to implement them.
"We know that midwives save lives," Professor Homer said. "If you've got well-educated, well-supported midwives you'll make a difference."
In Papua New Guinea where there are not enough midwives, the Safe Delivery App has been introduced to support the nurses and community healthcare workers who provide the majority of maternal and newborn care.
Solomon Islands are doing some really good work around trying to investigate perinatal deaths better because they know that's not routinely happening, Professor Homer said.
"Understanding why mothers and babies have died means you can then put interventions in place and you can monitor whether those interventions make a difference," she said.
In Fiji, the focus has been on strengthening health services, bringing back community health workers and retired midwives after the disruptions caused by COVID-19, and trying to support their health workforce.
"There are unique challenges across the region, and countries need to find their own solutions because they're all different," Professor Homer said.
"But there are also lessons that different countries can learn from each other."
And better sharing of knowledge across the region can only help to turn this situation around, she said.