Fenner Lecture tells of influences, trajectories and people on international health journey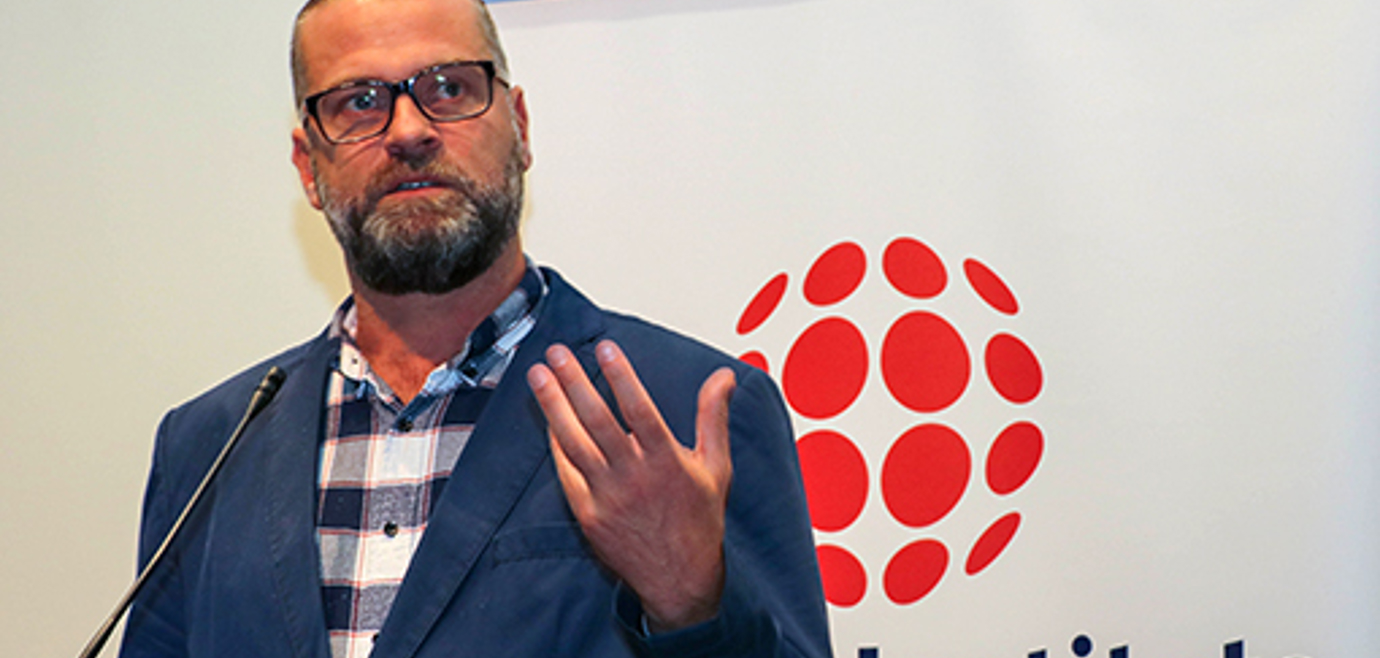 Burnet Institute Head of International Development, Chad Hughes, focused on the importance of people to his career and Burnet's mission in his Fenner Lecture to Burnet staff and students on Thursday.
The Frank Fenner Award winner for 2020 for his work in HIV advocacy, strategic planning and policy development, Mr Hughes' Fenner Lecture was postponed because of disruptions caused by the COVID-19 pandemic.
The Fenner Award acknowledges significant contribution to Burnet's vision and mission in the areas of medical research and public health, and is named after the great Australian virologist, Professor Frank Fenner AC.
Mr Hughes spoke of how his childhood spent looking at books and atlases and maps was part of a trajectory that would lead him to a career of travel and spending time in different parts of the world.
While initially fascinated by genetics and how it could be used to make a difference in the world, it was Mr Hughes' experiences while backpacking in Africa that ultimately set him on a different path.
While volunteering at an AIDS hospice in Entebbe, Uganda he spent time with patients in the advanced stages of HIV and AIDS, about half of whom were children under the age of 10.
"I think that was a major moment in my life where I went from 'What will I do next when I'm finished backpacking?' to 'But I can't do anything with my life apart from working on HIV', because it was so impactful, and so emotional," Mr Hughes said.
"And I really thank those people who are no longer with us for giving me that kind of impetus to find what I was going to do next."
During his career in HIV advocacy, Mr Hughes spoke about going from "putting people in boxes" which is often not helpful, to moving to a more settings-based approach.
"We were no longer targeting particular groups like MSM (men who have sex with men) or sex workers, we just picked the settings where HIV was most likely to be thriving, and being transmitted," he said.
Then, they worked with the entire community to respond to HIV in those settings.
"The point for me is we work with tricky governments, we also work with organisations which ethically we might not agree with," Mr Hughes said.
"But HIV thrives in dark places, and it thrives when human rights are not respected… so it's these places that we need to commit to and we need to work in as we move forward."
A lot of his career in international health, Mr Hughes said, has been about going to interesting places but seeing the part that no tourist actually sees.
"But that's the privilege of the access and being able to work with these people," he said.
"It's really about the people that we work with and work for, and everything that we do, we should think back to those people."