Burnet supports decision to make Richmond's supervised injecting facility permanent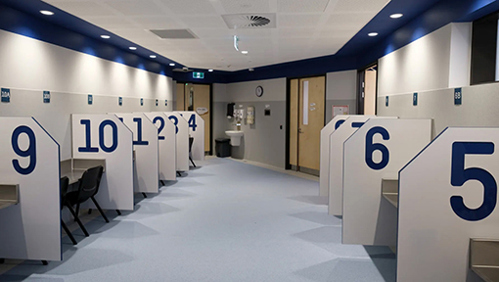 Burnet Institute welcomes the Victorian government's decision to introduce legislation to make the North Richmond Medically Supervised Injecting Room (MSIR) an ongoing service.
Today's announcement follows an independent review of the facility.
The review found the trial of the MSIR has saved 63 lives and successfully managed 6,000 overdoses at the facility.
Burnet Institute's Co-Program Director of Disease Elimination Professor Paul Dietze said evidence from the review suggests the MSIR is fulfilling key aims.
"Firstly, it's getting people to use the facility, and that means it is also reducing overdoses," Professor Dietze said.
The review made 10 recommendations including making the MSIR an ongoing service, expanding support for clients, and addressing safety and amenity through stronger collaboration between agencies.
"The recommendations seem reasonable, and I imagine the government will respond to them positively in time," Professor Dietze said.
"There are some key things around improving the nature of the wraparound services that are provided, including things to address issues related to mental health which are crucial. I think it'll be particularly important to see what the government's response is there."
Currently the service provides a space for people to inject which it does very effectively, Professor Dietze said, but there's not much specific resourcing allocated to these other functions.
Premier Daniel Andrews said there would be some changes to the way the MSIR operates including more wraparound services and greater involvement of nurses.
"Nurses are heavily involved in the facility as it is, and the medical director and the wider staff group all do an amazing job," Professor Dietze said.
"I think greater involvement of nurses will fit in with how the current model already works."
The government has ruled out adopting one of the recommendations which called for access to the facility to be expanded to include peer/partner injecting, and considering the removal of other eligibility barriers including barriers for people on court orders and injecting by pregnant women.
"I think this is something that still needs to be considered. We need mechanisms to deal with some of the most vulnerable people, people recently released from prison, for example, who are at elevated overdose risk," Professor Dietze said.
Professor Dietze said the next development will be seeing how things evolve in relation to the second facility that's been mooted for the CBD.
"That's one of the things that we're all waiting on. The government's indicated a report recommending the location of a new, second facility in the CBD will be tabled mid-year and we look forward to a suitable location being identified."