Burnet moves to create Reconciliation Action Plan
Update: In 2022, we proudly launched our first Reconciliation Action Plan (RAP). For more information, visit: burnet.edu.au/reconciliation
---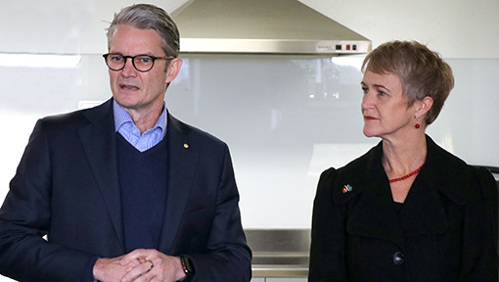 Burnet Institute staff and students will work together with the Aboriginal and Torres Strait Islander community to develop a Reconciliation Action Plan, in support of the national reconciliation movement.
Burnet Aboriginal and Torres Strait Islander sub-committee Chair, Dr Tara Purcell said the Reconciliation Action Plan (RAP) would strengthen partnerships between the Institute and Indigenous Australian communities.
Speaking at a National Reconciliation Week morning tea attended by staff and students, Burnet Director and CEO, Professor Brendan Crabb AC said the establishment of the sub-committee and RAP was a small but important step.
"I hope it will build to something that is a very large part of this institute's identity. Not just because it matters to Burnet but it matters to this country," Professor Crabb said.
"This is the organisation's pathway to reconciliation. This will be for everybody to engage in."
Chair of the Gender Equity, Diversity and Inclusion (GEDI) Committee, Professor Caroline Homer AO, said it was heartening to see strong support from Burnet staff on the matter.
"Reconciliation is the big unfinished business in Australia," she said.
Burnet's Aboriginal and Torres Strait Islander sub-committee was formed as part of the GEDI Committee. It is open to Burnet staff and students to join.
Update: In 2022, we proudly launched our first Reconciliation Action Plan (RAP). For more information, visit: burnet.edu.au/reconciliation