Burnet is part of global effort to prevent hepatitis C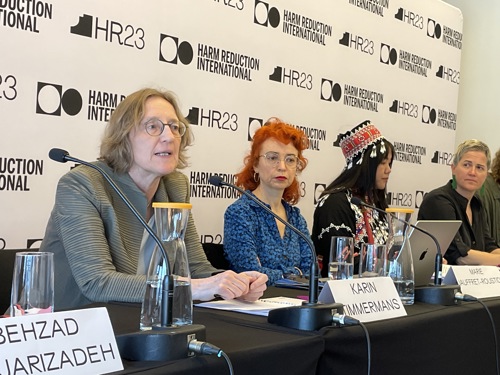 Image: The announcement of Unitaid funding at the HR23 Conference in Melbourne 
Burnet Institute is a key partner in a new global harm reduction program aiming to reduce the impact of hepatitis C among at-risk groups thanks to funding from global health agency Unitaid.
In a major boost to harm reduction efforts, Unitaid is providing US$31 million, distributed among its partners – including Burnet – to help efforts to prevent hepatitis C infection and increase access to curative hepatitis C treatments among people who inject drugs and others at-risk, including people in prison. 
The funding was announced at the 27th Harm Reduction International Conference in Melbourne in April. Burnet is partnering with Médecins du Monde, one of the three recipients of the funding, to develop and deliver the research component of the program. 
Burnet Institute Senior Research Officer Dr Bridget Draper said the funding was a step forward in developing better treatment pathways and increasing the harm reduction options available for people with hepatitis C in low- and middle-income countries. 
"In collaboration with our partners, Unitaid, Médecins du Monde, the International Network of People who Use Drugs (INPUD) and Bristol University, we are working on improving access to better treatment pathways and more harm reduction options," she said. 
Hepatitis C is a virus that, if left untreated, can result in liver disease or liver cancer.  
Four in ten people who inject drugs have a hepatitis C infection and 80 per cent of people who live with hepatitis C reside in low- and middle-income countries."The most serious implication of hepatitis C is the progression of liver disease, which is what we are trying to prevent by stopping people getting infected and treating people who already have hepatitis C infection," Dr Draper said.   
"This is a four-year program of work, conducted in Armenia, Georgia and Tanzania to support simplification of hepatitis C testing and treatment and integration into harm reduction sites, to enable the successful introduction of underused prevention tools in these countries.
"This program will provide hepatitis C testing and treatment to people who wouldn't otherwise be able to access it. Critically, it will also work to reduce people getting infected in the first place.
"The outcomes of this research will help guide policy and program decisions in these countries to deliver better outcomes for people with hepatitis C."
One of the initiatives of the program is the introduction of low dead space syringes to reduce the risk of transmission of hepatitis C among people who inject drugs. 
A low dead space syringe has less space between the needle and the plunger when it's fully pushed in, compared to traditional injecting equipment. 
This means there is less opportunity for infected blood to remain in the syringe after it has been used and less opportunity for infected blood to be transmitted to another user if the syringe is reused. 
"Evidence suggests that low dead space syringes reduce the transmission of blood-borne viruses between people," Dr Draper said. 
"There has been limited uptake of these new syringes, so a lot of our work is finding out what the low dead space syringe options are that best suit people's injecting practices and how to roll these out.
"We will also be assessing the feasibility of providing long-acting formulations of buprenorphine – a medicine used in opioid agonist therapy – in these low- to middle-income countries."
Slow-release formulations of buprenorphine, which reduces opioid cravings and withdrawal, could provide an option for people who face difficulties accessing the current oral formulation, including high out-of-pocket expenses, police harassment, or discrimination.
"Currently, long-acting opioid agonist therapies are not available in these countries and we want to look at making these more affordable and accessible in the future," Dr Draper said. 
"It is critical that we work with community to hear their values and preferences around this new opioid agonist therapy and their concerns surrounding its introduction in these settings.
"We're working closely with INPUD to ensure we have genuine community engagement throughout our research activities." 
Burnet Deputy Director, Professor Margaret Hellard AM, said she hoped the research would help inform policy in Armenia, Georgia and Tanzania to improve health outcomes for people who inject drugs. 
The outcomes will also inform World Health Organization guidelines for hepatitis C prevention and management for people who inject drugs, helping to progress global efforts to eliminate hepatitis C as a public health threat by 2030.
"We want to increase the harm reduction options available to people and to prevent new hepatitis C infections through this program. As well, we want to improve access to hepatitis C testing and treatment," Professor Hellard said. 
"Health equity is a core focus of ours and this work will go a long way to ensuring people in Armenia, Georgia and Tanzania, who have previously faced barriers, have access to this vital medical assistance. 
"The work will also inform pathways to equitable access to hepatitis C prevention and care in other low- and middle-income countries."