Burnet Institute is proud to share our new visual identity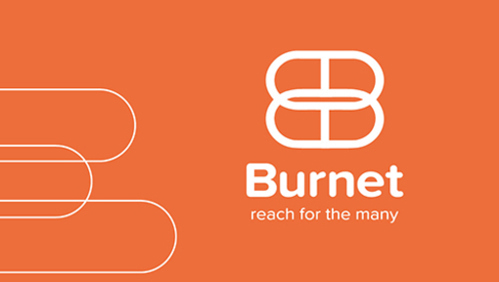 Burnet Institute (Burnet) is introducing a new visual brand identity across the organisation that will be rolled out throughout the month of May, including a new website.
Featuring a new tagline, 'reach for the many', Burnet's new visual brand aims to build upon our proud legacy while re-stating who we are and what we stand for – to create and translate knowledge into better health, so no-one is left behind.
"While our brand has served us well since 2008, our new brand identity has been designed to represent an updated graphical expression of our core strategy to reach for the many," said Professor Brendan Crabb AC, Director and CEO.
"As scientists and researchers, we reach for solutions to complex problems, for discoveries and new knowledge. But, of course, there's a humanitarian context, of reaching to get the products and benefits of those discoveries to the whole community, especially to those most in need.
"And 'for the many' is an essential affirmation of our focus on equity, and the last line of our purpose – that no-one is left behind."
The new visual brand identity will soon be seen on Burnet properties and assets including our annual report, building signage, publications, recruitment advertisements, social media accounts, stationery, staff identification and vehicles, as well as other communication materials. The change includes a new logo, new colours, and attention to our visual imagery and tone of voice.
Burnet's new website (www.burnet.edu.au) will feature:
A contemporary look and feel with an interface featuring Burnet's new brand identity
Better navigation, enabling website users to learn and engage with Burnet through a logical site structure and better search functionality
New content to highlight the broad technical nature of Burnet's work and impact, with a new global impact area highlighting how Burnet advances health equity globally, and a dedicated technologies area providing information on Burnet's vaccines, diagnostics, and therapeutic innovations.
Professor Crabb said that following a strategic review and based on feedback from staff and stakeholders gathered during a process that began in 2019, it was determined that an updated visual brand identity was needed to support Burnet's research, development and advocacy work in a world that has changed greatly in recent years.
"Our research showed that not all stakeholders fully understand Burnet's purpose and the fact that our work is guided by the needs and priorities of the communities we work with, both domestically and internationally," said Professor Crabb. "The new visual brand makes this goal explicit."
Professor Crabb said Burnet Institute's vision, purpose, values, and strategic priorities (as outlined in the Burnet 2030 strategy) remain the same.
Burnet has a proud history in Australia and in the Asia Pacific region as a medical research and public health institute, and an international non-government organisation (NGO), working towards a more equitable world through better health.
Burnet is part of the communities in which its facilities are located (in Australia, Myanmar, and Papua New Guinea) and the places where its researchers work. While it will take a little time before the new look is instantly recognisable as Burnet, it is expected that Burnet's distinctive and unifying new look will soon blend into local life, as it is implemented across all facets across the organisation.