Shirley Carn: Supporting in her son's memory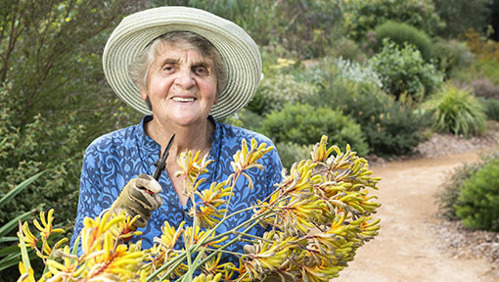 Losing a son is an impossibly difficult thing for any mother to go through, but Shirley found solace in two things: supporting HIV research at Burnet Institute, and her garden.
Her son Murray was starting a career as a barrister and had established a life with his partner, Craig, when he became ill. He kept his HIV diagnosis a secret from the family.
"It was devastating when we found out Murray had HIV," Shirley said. "We were told he had a form of cancer. I was so worried, but I didn't know it was HIV."
During Murray's illness, Shirley's garden became a sanctuary.
"I'd been growing Australian plants for 40 years," Shirley said. "I converted a sloping block in Silvan into a native plant paradise. It was so beautiful there."
Murray and Craig loved it. They were there nearly every weekend of Murray's last five years.
Murray died in the late 90s, aged 34.
Afterwards, Shirley threw herself into activism and fundraising for HIV and AIDS medical research.
Shirley regularly opened her garden to the public, with an entry fee donation going to Burnet Institute.
"I've seen such incredible advancements in the treatment of HIV in my lifetime, and the HIV self-testing device is a remarkable next step," Shirley said.
"Murray is gone, but there are so many more people who can benefit from the new drug treatments. It is to these people that my mind turns now – these young people and their families."
Sadly, Shirley passed away in April of 2020, but she will be fondly remembered for her advocacy of LGBTI communities and HIV research.
We thank Shirley for her many years of support and for her bequest to the Institute.