Kate Cherry: Making a contribution, as a donor and a staff member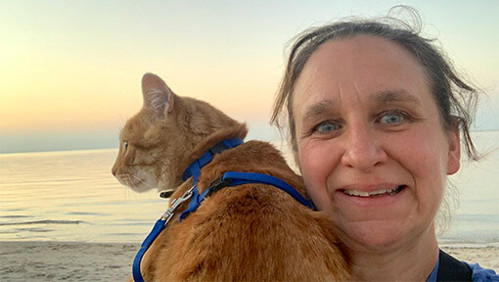 Kate Cherry completed her PhD at Burnet in 2004 and has been here ever since. Kate has been a clinician in Victoria's public hospital system since 1993 and has always had a particular interest in caring for people living with HIV.
Her PhD (investigating neurologic complications of HIV and HIV treatments) heightened her interest in research. For several years she ran a small lab at Burnet.
"I really enjoy working with colleagues from diverse backgrounds and providing a clinical and/or epidemiological perspective on projects. The buzz of looking at data and seeing new findings emerge is very real.
"But for me, the greatest motivator is the patients. Seeing patients in the clinic constantly raises questions about disease pathogenesis, drug toxicities, quality of life and more.
"What could be more natural than combining clinical work with a role trying to answer some of the questions that come up?"
Today, Kate leaves the main work of research to others, but enjoys contributing her skills and clinical perspective to various projects. She combines a part-time role here at Burnet as staff physician and clinical epidemiologist, with patient care (infectious diseases physician, Alfred Health, where she is also a member of the Ethics Committee), hospital governance (Board Director at Peter Mac) and volunteering. She also has honorary academic appointments at both Monash University and the University of the Witwatersrand in South Africa.
Kate made the decision long ago to give at least ten per cent of what she earns in philanthropic gifts. She has been giving to Burnet regularly since her PhD, and has a specific interest in addressing funding gaps.
"Working on the inside at Burnet, I see a very real struggle to cover the associated costs of research. All the 'unsexy' overhead costs like keeping the lights on, salary on-costs, or whatever it might be, often remain unfunded. For that reason, my gifts to Burnet are 'discretionary'.
"Rather than telling Burnet how to use my donations, I leave it to them to put it where it is needed, and where, perhaps, it is the hardest to attract funding. I know from personal experience that plugging these unfunded gaps can make a real difference – to the research, and ultimately to the patients."
Not everyone gets to do something they love and get paid for it, but I do. I wouldn't work for someone I didn't believe in, and I believe in Burnet. So I'm happy to be making a contribution, both as a staff member and as a donor.