VOICE: Building on pandemic lessons and community strengths

The VOICE project will build on good practices forged during the pandemic and better connect Victoria's multicultural communities with the services they need. 
For Burnet Institute, part of strengthening public health practice post-COVID-19 restrictions is more equitable access to health and support services for disadvantaged communities. 
The Victorian Online Initiative for Community Engagement (VOICE) project, being run by Burnet in partnership with community organisations, will consolidate the work of Victoria's multicultural communities in responding to the COVID-19 pandemic and use that to tackle other health challenges. 
The COVID-19 pandemic was a public health emergency that exposed cracks in support for multicultural communities. 
Language barriers were just one factor. Members of these communities were also more likely to be short-term casual workers or temporary migrants excluded from JobKeeper payments or working multiple low-paid jobs. Some avoided COVID-19 tests because a positive result meant they couldn't work and earn money. 
An independent report into Australia's pandemic response, led by Peter Shergold AC, noted that by January 2022, the COVID-19 death rate for Australian residents born overseas was almost three times as high as for those born in Australia. Among people born in the Middle East, it was more than 12 times as high. 
But there were also moments of success. The huge lift in vaccination rates among multicultural communities in Melbourne, for example, came when health authorities worked with community groups to disseminate culturally appropriate health information.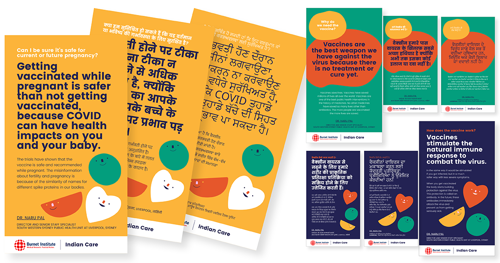 VOICE will build on community strengths and good practices during the pandemic to build better connections between researchers, government and multicultural communities. 
"The overall aim for the program is that we create something sustainable," explained Amy Kirwan, Burnet Institute's Senior Research Fellow, Social Impact and Innovation, who is leading the project. 
"We draw on the things we learned with the pandemic, take those lessons forward and think about how we can apply them to strengthen public health practice with multicultural communities. It's also about how we can use digital technology to support us to enhance that sustainability."
"It's really about bringing together a whole lot of different bits of expertise and seeing what we can create together."