Twice as many Victorians may have had COVID-19 in January 2022 than reported, new analysis reveals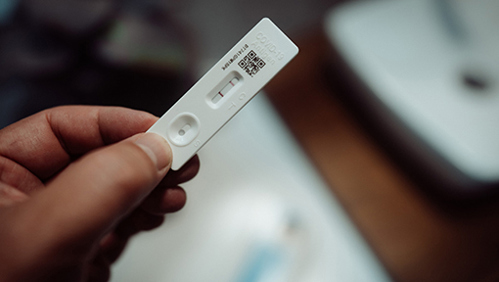 New analysis has revealed twice as many Victorians may have had COVID-19 during the Omicron BA.1 wave in January 2022 than reported numbers.
The findings suggest that reported cases aren't an accurate indicator of the burden of COVID-19 in the community, said Ms Aimée Altermatt, Burnet Institute Research Assistant and lead author of the paper published in the Australian and New Zealand Journal of Public Health last week.
"We need to know the true number of infections to help reduce the spread of COVID-19 and to inform public health measures," Ms Altermatt said.
"That's as important today as it was a year ago, because people want the best information to make the best decisions for their health today."
The research draws on data from the Optimise Study, a multi-platform, collaborative study, led by the Burnet and Doherty Institutes looking at what was happening with COVID-19 and its impact on Victorians.
"In January 2022, COVID-19 testing was hard to access due to strained PCR testing capacity, high rates of community transmission, and Rapid Antigen Tests (RATs) being in short supply and expensive when available," Ms Altermatt said.
This meant the number of reported COVID-19 cases was likely to be considerably less than the total number of infections.
To estimate the proportion of Victorians infected during the January 2022 Omicron BA.1 wave, the Optimise Study surveyed 577 participants about COVID-19 testing, test results, and barriers to testing.
"We found 10 per cent of our participants reported a positive COVID-19 test result to the government in January 2022, although 14 per cent of our participants had tested positive to COVID-19," Ms Altermatt said.
"Extrapolating these results to include survey participants who did not test, we estimated that between 19 to 22 per cent overall – or roughly one in five – may have had a COVID-19 infection at this time."
We must take these findings into account when preparing for future waves of infection, said Professor Mark Stoové, Burnet's Head of Public Health and a senior author on the paper.
"Having an accurate measure of the proportion of people with COVID-19 informs how we respond from a public health perspective," Professor Stoové said.
Measuring the amount of COVID-19 in the community is something the public can help with, he said.
"We're continuing to encourage the community to test when they have symptoms and report their positive RAT results.
"Governments can make it easier for people to do this by subsidising RATs, and in some cases, providing them for free."
Free RATs are available from most local councils in Victoria. Positive RAT results can be reported online or over the phone to your state or territory health department.