Strong partnerships key to continued RID-TB program success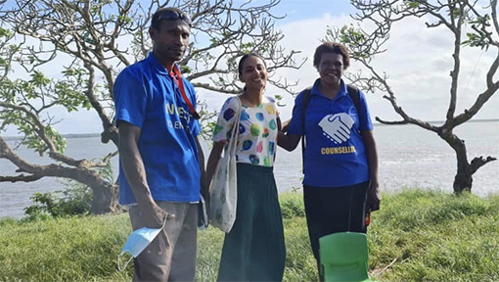 Despite facing numerous challenges, the RID-TB project was able to adapt and continue operating throughout the COVID-19 pandemic, and is back to full strength in Daru, the capital of Papua New Guinea's Western Province.
It is now set to expand further with the community launch of the Systematic Island-Wide Engagement and Elimination Project for TB (SWEEP TB), which will complement RID-TB and use computer assisted X-ray and molecular diagnostics to systematically screen all Daru residents for TB infection and active TB, said Dr Khai Lin Huang, Technical Director of the RID-TB project.
SWEEP will allow us to detect, treat and prevent TB using existing tools to rapidly reduce the prevalence of disease and infection in Daru," Dr Huang said.
Supported by Australian Government funding through the PNG-Australia Partnership, Reducing the Impact of Drug-Sensitive and Drug-Resistant Tuberculosis (RID-TB) is a Burnet Institute project supporting the design and implementation of an effective response to the major TB epidemic in Western Province.
The project works closely with the Western Provincial Health Authority (WPHA) and other partners.
Thanks to these strong relationships with partners, the local community, and the knowledge and expertise of local teams, the project was able to continue despite the significant limitations imposed by COVID-19 throughout 2020, 2021 and 2022, said Dr Khai Lin Huang, Technical Director of the RID-TB project.
Data and information relating to program efficiency was closely monitored and program activities were adapted to mitigate the impact of the pandemic, including human resources challenges, restrictions on travel and equipment, and the diversion of resources.
The team also pivoted from TB to COVID-19, using their existing expertise to support the WPHA in its response to the pandemic, including assisting with the vaccine rollout in the region.
As a result, essential TB services were maintained and the number of people who successfully completed treatment remained high.
Dr Huang said it was a testament to the dedication and commitment of the team working across the project that activities were able to continue during the pandemic.
"I'm so proud of the entire team for all their hard work and dedication to a person-centred approach to TB care, despite the many challenges we encountered during the pandemic," Dr Huang said.
With a return to a full contingent of national and international staff in 2022, the focus has been on rebuilding and strengthening the TB model of care, expanding active case-finding activities, and improving access to preventative therapy for TB in Daru.
In late January of 2022, the RID-TB public health team returned to active household contact tracing for people newly diagnosed with TB, a core public health activity for TB control.
By the end of 2022, 488 people had been diagnosed with drug-susceptible TB, 93 people with drug-resistant TB, and 85 people were put on preventative therapy in Daru's Basic Management Unit, all of whom are receiving appropriate treatment.
The resumption of a full suite of public health activities has allowed for greater monitoring of symptomatic and asymptomatic contacts, and more children who are close contacts of a TB case have also started preventative therapy.
Team member and Nursing Officer Naomi Pank said it was great to be able to increase the level of support and education to households affected by TB.
"It's been rewarding to once again be able to go out to the community," said Ms Pank.
"Our team has picked up its core activities which can be reflected in the hospital's TB Diagnostic Centre attendance thus far, as well as the number of children on or who have completed preventative therapy.
"There is also more contact tracing and case identification through screening of contacts as the team is able to move around the community freely."