Professor Brendan Crabb admitted to the Australian Academy of Science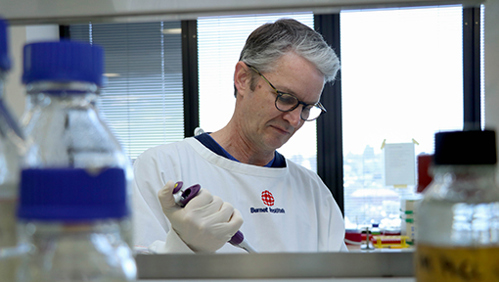 Burnet Institute Director and CEO Professor Brendan Crabb AC has been formally admitted as a Fellow of the Australian Academy of Science at an event at the iconic Shine Dome today.
Professor Crabb was elected to the Academy in 2021 for several significant discoveries he has made about malaria, but along with other Fellows elected in 2020 and 2021 was not able to be formally admitted until now.
Speaking to the Academy's Director of Communications and Outreach Paul Richards after the ceremony, Professor Crabb said it was a friend of his parents who first sparked his love of science.
"My family is not in science, but my father had a friend who was a scientist and I was so impressed with what this person did," he said.
"He didn't wear a tie, I thought that was pretty impressive … and he didn't seem to be into money, but he was very excited about his job.
"That's a very strong memory I have and as a result really, I did a science degree."
Professor Crabb said spending part of his childhood in Papua New Guinea has influenced the things he's chosen to work on.
"I see science as a solution to the problems people have. But it's not enough – they've got to access that science," he said.
"We've seen it with COVID-19 in Papua New Guinea, the country that I grew up in, they've got a lot of vaccine but only three per cent of the country are vaccinated."
Professor Crabb has spent much of his career working on malaria.
What makes malaria such a tricky disease to find effective treatments for is its incredible variability, he said.
"You've got this dual whammy with malaria. It's genetically very complicated, like a leopard that's changing its spots. And it's also a disease of poverty.
"So even with the solutions, it doesn't fix it. You have to fix the access issue as much as the scientific challenge."