NHMRC grant brings synergy to strategies for malaria elimination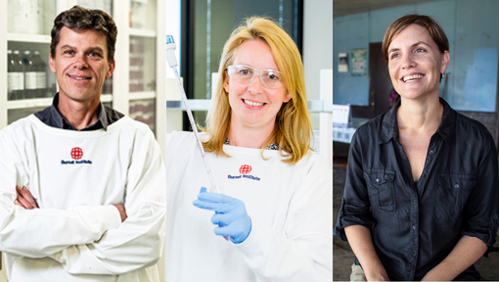 A National Health and Medical Research Council (NHMRC) Synergy grant valued at AUD$5 million has been awarded to a multi-institutional collaborative team to develop multiple strategies to interrupt malaria transmission.
Led by Professor James Beeson, head of Burnet's Malaria Immunity and Vaccines Laboratory, the team brings together six research groups and includes Professor Freya Fowkes (Burnet), Professor Leanne Robinson (Burnet), Professor Alyssa Barry (Burnet / Deakin University), Professor Ivo Mueller (WEHI) and Professor Julie Simpson (University of Melbourne) as chief investigators.
"In particular, this new funding aims to develop innovative new solutions to reduce and interrupt malaria transmission so that we can make more progress towards the elimination of malaria as a public health threat globally," Professor Beeson said.
Progress to reduce the burden of malaria has stalled since 2015, highlighting the need for new approaches and strategies.
"It's going to be an eternal challenge to reduce the burden of malaria," Professor Beeson said.
"We really need to push down the overall transmission of the disease to reduce the total number of people at risk and the total number of people who get malaria."
The grant will help to fund research under three main themes.
Firstly, developing new tools to detect and target malaria transmission, which will lead to more targeted and effective interventions.
"We know that the current tools we use for diagnostics and detecting where malaria transmission is occurring are imperfect," Professor Beeson said.
"We need better tools – particularly as malaria declines and becomes much more patchy – to identify pockets of transmission and detect any new cases that emerge as quickly as we can."
Secondly, optimising drug treatments to efficiently and rapidly clear malaria infections, and overcome the problem of drug resistance where it's starting to emerge.
"Drug resistance is going to be a perennial problem with malaria," Professor Beeson said.
"We need to optimise the way we use current drugs and develop new drugs to replace the existing ones as drug resistance becomes more widespread."
And thirdly, maximising the efficacy and impact of malaria vaccines.
"We've got a vaccine now that's commencing roll-out in children that's sub-optimal. We've need to understand: Why is that? How are we going to get better protection? And how will that inform vaccines that are being developed now?" Professor Beeson said.
"The long-term vision is to develop vaccines that reduce malaria transmission by 80 per cent or higher, that are 80 per cent or more protective against the disease, and that are reasonably long-lasting – ideally three years or more – so that they don't have to be given too frequently."
Professor Beeson said the multi-faceted nature of the research program was about recognising that any one strategy is not going to be sufficient to interrupt malaria transmission.
"We feel we have to be this ambitious to make further gains towards achieving malaria elimination," he said.
"The last 10 years have shown us that just the status quo is not going to be enough."
FIND OUT MORE about Burnet's Eliminate Malaria Program.