How Burnet's Papua New Guinea team has responded to the challenges of COVID-19

Our Papua New Guinea (PNG) team has been an integral part of the pandemic response in the region, working closely with communities and our partners.
We've worked with the respective Provincial Health Authorities to not only strengthen the COVID-19 response but also minimise the impact on the health system and other programs, said Burnet's PNG Country Director, Dr Kudakwashe Chani.
"For example, in Daru, the capital of PNG's Western Province, we collaborated with our partners to integrate awareness, infection prevention and control, and screening and diagnosis for COVID-19 and tuberculosis," Dr Chani said.
"We were also part of a targeted community education campaign to support the COVID-19 vaccine roll-out in South Fly District, sharing COVID-19 information and building confidence in the vaccine."
Burnet researchers are part of a team working at the PNG Molecular Hub, a collaboration between the PNG Institute of Medical Research, The University of PNG School of Medicine and Health Sciences, and The National Department of Health Central Public Health Laboratory, to strengthen molecular diagnostic testing capacity and early detection of tuberculosis (TB), malaria, and other vector-borne diseases.
And our TB Working Group successfully conducted operational research training for PNG researchers across seven provinces in 2017 and 2018, and in late 2022.
"Almost all the participants were able to publish their work," Dr Chani said.
Tuberculosis
Ending TB is a high priority area for PNG, Dr Chani said.
A Key Result Area of the new National Health Plan focuses on reducing the burden of communicable disease including TB, HIV and malaria.
The current incidence of TB in PNG is estimated at 424 per 100,000 people and 24 per 100,000 people for multidrug-resistant TB (MDR-TB), although incidence has reduced by nearly two per cent in the last five to six years according to the World Health Organization's Global TB Report 2022. The reduction in incidence rate falls short of the WHO End TB milestone to reduce the 2015 TB incidence by 20 per cent by 2020.
"Daru Island in South Fly District of the Western Province has one of the highest incidences of MDR-TB in PNG.
"Burnet has successfully collaborated with the Western Provincial Health Authority and partners to stabilise the MDR-TB outbreak in Daru."
Dr Kudakwashe Chani, Papua New Guinea Country Director, Burnet Institute
Malaria
Another great example of our health security work is Burnet's collaboration in the STRIVE PNG Program. STRIVE PNG is co-led by the National Department of Health, PNG Institute of Medical Research, The University of PNG, Burnet Institute, and James Cook University.
The program has adopted a partnership-based approach to establish, maintain and review effective and equitable relationships among the 13 partner organisations, to strengthen surveillance and health systems research in PNG.

Symposium brings together medial researchers and stakeholders
Multiple examples of how far PNG has come in tackling health security and pandemic preparedness challenges were on display at the 56th PNG Medical Symposium held in Port Moresby in September 2022.
The impact of COVID-19 on other diseases such as TB, and on the health system in PNG more broadly, was a key focus.
"This was the first symposium since the emergence of the COVID-19 pandemic, bringing a renewed sense of the need to bridge the gap between research, policy and implementation," Dr Chani said.
"Burnet Institute in PNG was pleased to be part of the symposium to share work that we collaborated on with other key stakeholders in PNG and in the region, and to contribute to local evidence."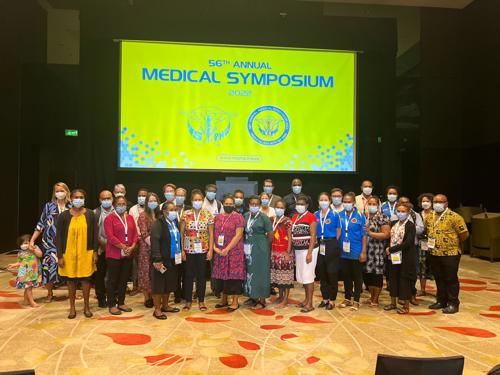 Thirty-four Burnet staff and researchers attended the symposium from PNG and Australia, including Burnet Senior Research Fellow Dr Stefanie Vaccher, who is based in PNG.
"I had the privilege to attend the symposium, and present findings of some recent work undertaken here, a literature review of the most effective ways COVID-19 antigen rapid diagnostic tests could be used in PNG," Dr Vaccher said.
See also: Steph's reflection on the 56th PNG Medical Symposium
Rapid antigen tests are best for identifying people with high viral load, who are often highly infectious.
The review found further discussions with both health and non-health partners is critical to understand gaps, priorities for future work, and impact on future testing strategies in PNG.
Testing and interpretation of results is context dependent. Good surveillance information is needed to understand background prevalence of COVID-19 in a particular location, as well as local knowledge of the implications for someone who tests positive – for instance, isolation requirements.
"The symposium allowed locally-led research to be the focus of the meeting and ensured that future research in PNG would benefit from the sharing of new ideas, successes, and strategies for overcoming challenges," Dr Vaccher said.
"The group organising the meeting – the Medical Society of PNG – pre-dates PNG's independence by over a decade. This in itself highlights the depth and breadth of medical research that is being conducted in PNG, by Papua New Guineans."
With a recently elected government and a new 10-year National Health Plan, the conference was well-timed to address priority health areas and issues of local and national significance.
"Presentations gave a good overview of the wide range of health issues that affect PNG. The ingenuity that was on display, from a homemade device to measure the length of a newborn baby's foot as a proxy for low birth weight, to new malaria surveillance strategies, provided valuable lessons to all attendees," Dr Vaccher said.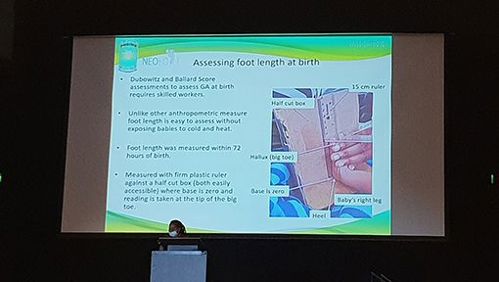 "There were also critical insights into local issues that are not always evident at other international conferences."
For instance, the pervasiveness of betel nut (buai) chewing in PNG and the myriad health problems it can cause was a common theme across several presentations. This created links between previously siloed fields, such as dentistry and harm reduction, and helped develop new ways of thinking about endemic issues.
"The opportunity to learn from other researchers in PNG about local cultural beliefs and kastom in the areas where they were working was also invaluable," Dr Vaccher said.
For instance, the importance of visiting the community before the study began to meet with key leaders and give people time to get to know the research team and consider what questions they may have.
"The shared social connections over many lunches, dinners, and cups of tea strengthened old friendships and built new ones, a fundamental part of any conference," Dr Vaccher said.
"The opportunity to learn from other researchers in PNG about local cultural beliefs and kastom in the areas where they were working was also invaluable."
Dr Stefanie Vaccher, Burnet Institute
You're reading IMPACT magazine | Subscribe today
More stories of IMPACT

Make an Impact - Donate Today
Please donate today and support healthy mothers, children and adolescents. Every donation makes a difference to the lives of vulnerable communities.