Health leaders support call for COVID strategy rethink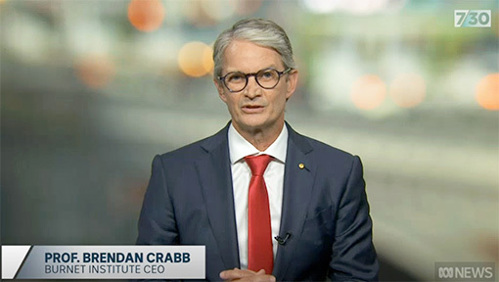 Australian public health leaders have supported calls from Burnet Director and CEO Professor Brendan Crabb AC for a reset on COVID-19 management policy and the adoption of an 'anti-transmission strategy' by the Australian government.
In an interview with Croakey Health Media, Professor Crabb emphasised the need to implement a "sustainable, elevated level of action" due to the ongoing and constant impact of the pandemic.
He said a shift in government messaging would enable reductions in community transmission and suggested that Prime Minister Anthony Albanese "could change the practice of millions of Australians" by changing the narrative and mindset of people.
Professor Crabb said it would make a difference for the Prime Minister to acknowledge that COVID-19 is still a concern and increase messages about the importance of booster vaccinations and air ventilation.
On the ABC's 7.30 program earlier in the week, Professor Crabb highlighted the impact of "unfettered transmission" in the community on the elderly and immunocompromised, as well as the prevalence of Long COVID – estimated in a recent Nature article to be approximately 10 percent of COVID cases.
"The only way to prevent long COVID is to not get COVID, and … every time you get reinfected, you increase your chances of Long COVID, so it's another reason to change our strategy to be anti-transmission," Professor Crabb said.
COVID-19 continues to run rampant, making a lot of Australians sick & killing many, even if we don't seem to be talking about it publicly as much. To discuss the nation's COVID strategy, @latingle talks to @CrabbBrendan, @nadahamad & @RDNS_TAI. #abc730 https://t.co/RRjN0bvYDq

— abc730 (@abc730) January 24, 2023
Senior health experts canvassed by Croakey from a broad range of sectors including health promotion, aged care, aboriginal health, public health and emergency clinicians were strongly supportive of a COVID prevention strategy.
President of the Public Health Association of Australia, Adjunct Professor Tarun Weeramanthri said the increase in overall mortality "should trigger a rethink" of Australia's COVID-19 management policy.
Chair of Disability and Health, in the Disability and Health Unit at The University of Melbourne, Professor Anne Kavanagh said, "because we don't have mitigation strategies in place to reduce transmission – including safe indoor air, isolation of positive cases and masking indoors – people who are at risk are forced to isolate themselves from community".
And Australian Health Promotion Association President, Dr Gemma Crawford told Croakey that "prevention and effective health promotion should be a public health cornerstone for COVID-19".
Click here to read the Croakey article in full.
Experts are at odds. Some say we are clearly moving out of the pandemic. Others say the high death rates show us that we are still in a national crisis. https://t.co/hQy4W9fotz

— Financial Review (@FinancialReview) January 24, 2023