EC Australia to continue beyond 2022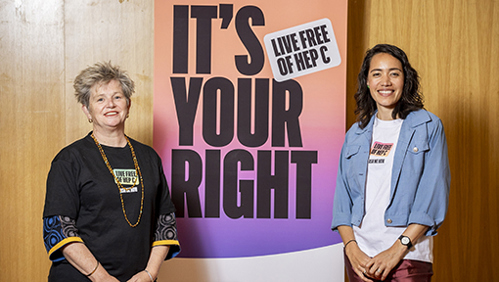 EC Australia (Eliminate Hepatitis C Australia) has secured critical funding to continue operations over the next five years – from 2023 to 2027.
This will allow EC Australia to maintain momentum towards its goal of eliminating hepatitis C as a public health threat in Australia by 2030, said EC Australia Coordinator Dr Alisa Pedrana.
Burnet Institute's Board approved a proposal to provide the funding required to allow EC Australia to continue operations, while it also seeks to secure third party funding.
"These Burnet funds will enable the EC Australia program team to work with our over 70 partners to seek further funding opportunities to continue our innovative work nationally," Dr Pedrana said.
A priority of the next phase of EC Australia will be to ensure people get access to treatments early to reduce their risk of hepatitis C-related liver cancer and liver disease.
The program team will also focus on enhancing their work with Aboriginal and Torres Strait Islanders communities, and expanding their health promotion and community engagement activities into new settings, including mental health settings, programs supporting people experiencing homelessness and probation and parole programs to help drive demand for hepatitis C treatment.
"Testing and treatment for hepatitis C has stagnated in Australia over recent years so we need to focus our efforts on interventions that work to reach and engage people in hepatitis C testing and treatment programs, to ensure we remain on track to meet our 2030 hepatitis C elimination goal," Dr Pedrana said.
EC Australia was first formed in 2019, with generous funding from the Paul Ramsay Foundation allowing Burnet Institute to bring together researchers, public health specialists, community organisations and health services to work in partnership with the focus to eliminate hepatitis C as a public health threat in Australia by 2030.
Funding from the Paul Ramsay Foundation concludes at the end of this year.
In the first four years of EC Australia, it has:
delivered the first peer-led national health promotion campaign: It's Your Right,
funded and implemented 21 partnership projects, covering every state and territory of Australia,
delivered annual reports that monitor Australia's progress towards hepatitis C elimination,
developed an Aboriginal and Torres Strait Islander hepatitis C health strategy
leveraged $1.25m in additional funds for the creation of the first national health campaign for Aboriginal and Torres Strait Islander People, and
mapped policy priorities and coordinated a national advocacy committee to address key policy challenges that have been identified.
Feedback from the program's partners has highlighted the significant impact having a national hepatitis C network has brought.
For example, the Tasmanian Eliminate Hepatitis C Outreach Project spoke about how EC Australia has helped them overcome obstacles they've encountered in delivering their project.
"The EC Australia team's knowledge in the hepatitis C space has been very helpful in overcoming hurdles that we come across in the project," they said.
One of the strengths of EC Australia is that is provides a vehicle to engage stakeholders nationally, share learnings and support a coordinated response to Australia's hepatitis C elimination efforts, Dr Pedrana said.
"Collaboration and working in partnership is a key priority for us, which also fosters opportunities to build new strategic partnerships. None of this work would have been possible without our partners," Dr Pedrana said.
"And I'd also like to take this opportunity to thank Burnet Institute's Board and Executive for their ongoing support of EC Australia."