Burnet welcomes grant for mRNA vaccine development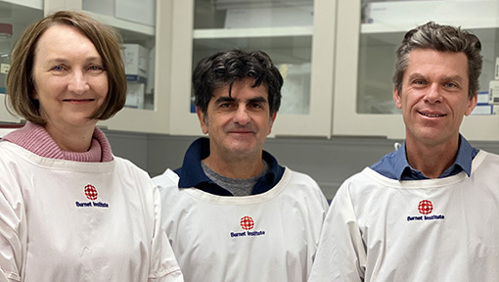 Burnet Institute's Burnet Vaccine Initiative (BVI) has been awarded a grant of over AUD$3 million from the Victorian Government's mRNA Victoria Activation Program to accelerate the development of next generation mRNA vaccines.
The BVI is a concerted effort to take Burnet's lead vaccine candidates for COVID-19, hepatitis C and malaria through pre-clinical validation to first trials in humans in collaboration with mRNA vaccine pioneers, Moderna.
The new funding allows the expansion of the program in collaboration with the Monash Institute for Pharmaceutical Sciences (MIPS).
The BVI builds on over 20 years of R&D at Burnet and brings together the vaccine design expertise of key Burnet investigators, Professors Heidi Drummer and James Beeson and Dr Andy Poumbourios, with the mRNA vaccine technology developed by Moderna.
With the newly acquired funding, the BVI will collaborate with Professor Colin Pouton at MIPS to develop the next generation of world-class novel mRNA vaccines in Victoria.
These will include multi-antigen vaccines that will have the potential to produce more potent and long-lasting immune responses and greater protection.
"Burnet is delighted to be recognised by mRNA Victoria through this new funding," Dr Poumbourios, Co-Head, Burnet Institute Viral Entry and Vaccines Group, said.
"We are excited to partner with Professor Pouton and Monash University to advance our new vaccine technologies.
"We are hopeful that this will establish Burnet as a leader in vaccine design and development and contribute to Burnet's mission of health equity."
Professor Pouton has led the development of Australia's first COVID-19 mRNA vaccine, which is currently in Phase 1 clinical trials.
He said the collaborative work of the Victorian Government, Burnet Institute, Monash University and industry to drive forward the development of mRNA vaccines is a testament to the state's commitment to exploring this area of therapeutics.
"This funding will enable us to work together to build on Victoria's mRNA ecosystem and progress this enormously promising new field of medicine, which has the potential to transform the way we treat a range of global health issues," Professor Pouton said.
Over the next three years, the collaboration will develop vaccines against COVID-19, hepatitis C and malaria, and include other infectious diseases, including those that have been identified as having pandemic potential.
This project will contribute to the aim to develop an end-to-end, research to manufacture ecosystem within Australia to ensure rapid vaccine access to all Australians in times of need, establish Australia as a leader in vaccine production in the Asia-Pacific region, and contribute to reducing the burden of infectious diseases in our region and globally.
Find out more about the Burnet Vaccine Initiative.